The huge popularity of the car subscription means that there are more and more providers on the Swiss market. Carvolution launched the car subscription 2018 in Switzerland as the first provider, the competition has grown quickly. Find out all the differences between moeo and Carvolution in this blog.

The all-inclusive bundle
With both car subscription providers, the fixed monthly price includes everything about the car except fuel or electricity. This means: insurance, cantonal redemption, taxes, service and tyres are included. With Carvolution, however, the Carvolution fuel card from AVIA is also included, which saves 5 centimes per litre when filled up. For electric cars, the evpass charging card is included: 1 year free membership and instead of 0.50 CHF/kWh, only 0.45 CHF/kWh is paid. The basic charge of 1.50 CHF for each charge is waived.
Registration of the car
With Carvolution, the car is registered in the customer's canton of residence. Among other things, they can easily obtain a parking card for the blue zone. With moeo, all cars are redeemed in the canton of Thurgau. This means that customers drive with a TG number plate. The car should actually be redeemed in that canton where it sleeps, as the saying goes. Also, customers cannot get a parking card for the blue zone this way.
Requirements for a car subscription
Both moeo and Carvolution require a valid Cat. B driving licence plus a good credit rating. With moeo, you must also be at least 20 years old and not have had a driving licence suspension in the last 5 years.
Minimum term
Customers choose their desired minimum term with both car subscription providers. While moeo only offers a minimum term of 6 months, Carvolution offers a choice of 3, 6, 12, 18, 24, 36 or 48 months. The longer the minimum term, the cheaper the car subscription price. With both car subscription providers, the subscription can be cancelled after 30 days following the minimum term.
Carvolution is different in the following ways:
With Carvolution, an AVIA fuel card or an evpass recharge card is included in the all-inclusive package.

300 reviews on Google. The Carvolution community is growing every day.

A useful app. The subscription is quickly available and you can adjust the monthly kilometrage package yourself.

Live chat available 7 days a week

Mobiliar is a strategic partner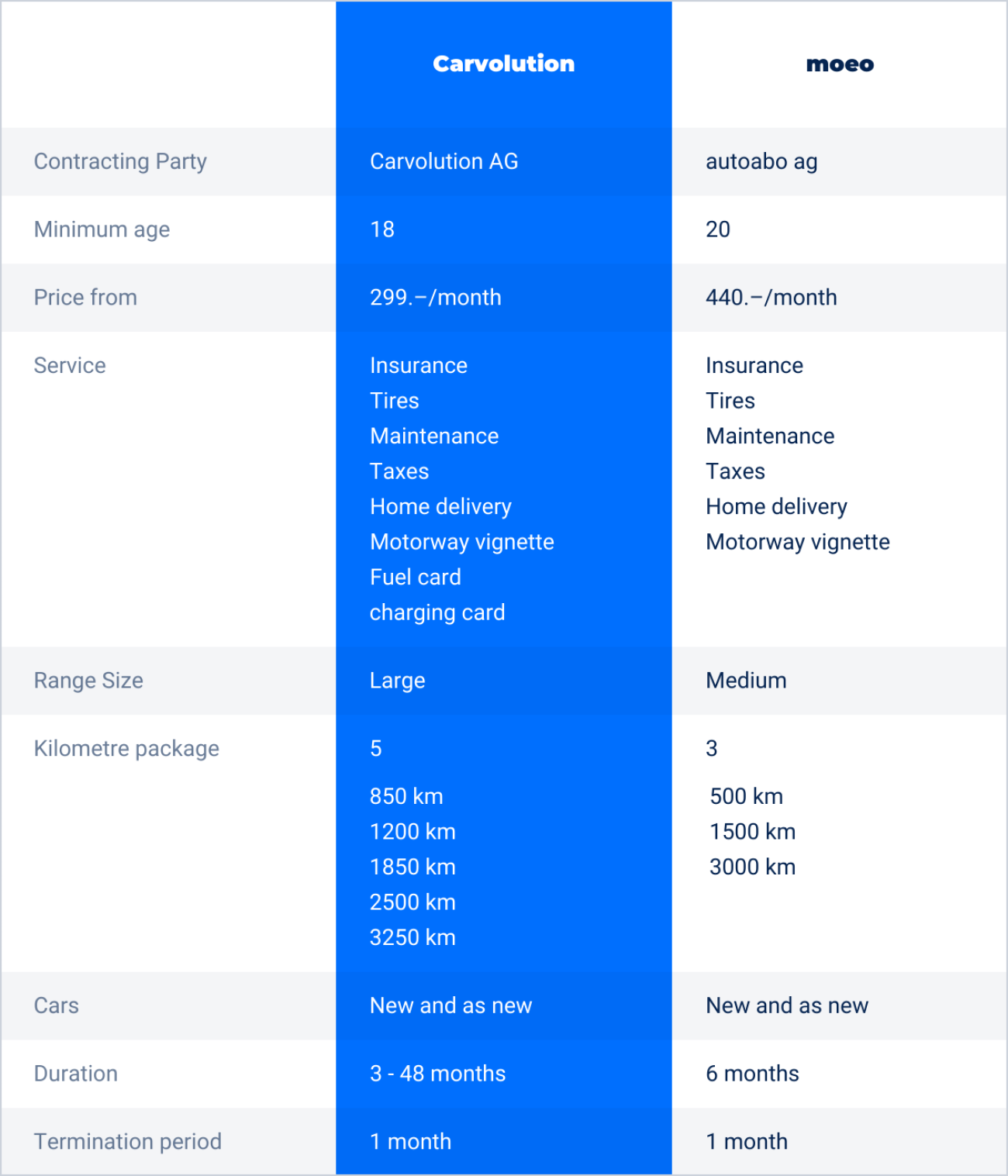 Which car subscription suits you?
Ultimately, you decide which subscription suits you best. Is a wide choice of minimum terms important to you? Would you like to be able to access your subscription at any time via the app? If you decide on a car from Carvolution, you can find all our vehicles here.

Guaranteed never to pay too much
We guarantee that your total costs will be lower with a car subscription than with leasing. If we are more expensive, we will reduce our prices! Start a free, non-binding comparison now.