Carvolution has been offering cars of various brands on subscription for years. While the concept is quickly gaining popularity among many, sceptics criticise the supposedly high subscription prices. The young company from Bannwil in Bern has now launched a best price guarantee. This guarantees that customers pay less than they would for a leasing contract.
Many car drivers still assume that the cost of their car is too low, as a study by the University of Mannheim and the US University of Yale shows. The car owners surveyed estimated the costs of their vehicle to be around 50 percent too low.
This is probably the reason why sceptics of car subscription criticise the seemingly high prices. These seem high because, in contrast to a leasing rate, they include the costs of insurance, registration and taxes, service and maintenance, and tyres in addition to the car. In addition, in contrast to classic leasing, there is no down payment for a Carvolution car subscription, which also makes the monthly costs seem higher.
It's the total cost that counts
While a car subscription includes all costs except fuel in the fixed monthly price, a leasing instalment represents only a fraction of the actual car costs. This fact seems to lead to the misconception that a car subscription is more expensive than leasing. To make it easier to compare leasing offers and car subscription prices and to make the price difference visible, the young company from Bern has introduced a best price guarantee without further ado.

How exactly does the Best Price Guarantee work?
There are two ways to make use of Carvolution's Best Price Guarantee and to find out more about your own savings potential:

1. Send in a leasing offer
If you have a leasing offer and, ideally, an insurance offer at hand, simply send them to Carvolution for comparison (via e-mail contact@carvolution.com). Your savings potential will then be calculated and communicated to you.

Please note
Deviation from the list price may not exceed + /- 5 %.

The leasing must be offered in Swiss retail or Swiss online shops.

The documents and offers must not be older than 30 days.

Corporate customers are excluded from the best price guarantee.
2. Get a comparison table
You can also get a total cost comparison without a leasing offer. Then simply enter your desired configuration for the car subscription (car, kilometre package, canton) and Carvolution will compile your comparison.

We set the duration of the subscription and leasing to 36 months by default, so that the comparison is as fair as possible. If we offer a car on a subscription basis for 24 months or less, we leave the duration of the leasing contract at a minimum of 24 months, as shorter leasing contracts are very unusual in practice.

In comparison without concrete offers, Carvolution bases the amount of the leasing rate as well as the costs for insurance, registration and taxes, service and maintenance, tyres and down payment on general assumptions, such as data from the TCS (you can find the details here). If you would like a comparison with other assumptions, we will of course adapt it for you on request.
Here is an example of a Ford Fiesta ST-Line-X calculation for 36 months, the canton of Schaffhausen and with 850 km per month.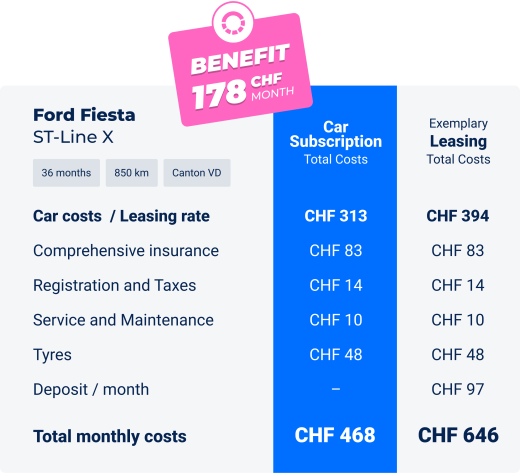 For the total cost calculation of the Ford Fiesta ST-Line X we have the purchase value of CHF 32'750.- and a corresponding discount of 7 %. We assume an interest rate of 4.9% and a down payment of CHF 3,000.


Checklist: How to compare a subscription and a lease correctly?
When comparing the total costs of a car subscription and a lease, it is important to do it on the basis of the same general conditions. This is the only way to make a meaningful comparison. Here you will find a checklist that can serve as a basis for comparison:

Same vehicle model including identical equipment and configuration.

Do not compare used cars, only new cars

Same duration

Same kilometre package

Same canton

No down payment
If these parameters match, a fair comparison is possible.
If you have any questions or uncertainties, please feel free to contact us at any time. Here you can make use of the best price guarantee.

Guaranteed never to pay too much
We guarantee that your total costs will be lower with a car subscription than with leasing. If we are more expensive, we will reduce our prices! Start a free, non-binding comparison now.