The popularity of the car subscription in Switzerland is still rising steadily. It is therefore not surprising that more and more subscription providers have entered the market since the launch of Carvolution in 2018. This is also the case with INSTADRIVE, which only offers electric cars on a car subscription. Find out how the two providers differ and where they are similar in the blog.
The all-inclusive bundle
With INSTADRIVE, as with Carvolution, everything about the car is included: insurance, taxes, cantonal registration, service and maintenance and tyres. However, the two providers differ in a few things: For one thing, the choice of deductible. INSTADRIVE offers you two options: CHF 1,000 and CHF 500, while Carvolution has three: CHF 1,500, CHF 1,000 and CHF 500. Secondly, Carvolution also includes the Carvolution fuel card from AVIA, which saves you 5 centimes per litre you fill up. For electric car drivers, the evpass charging card offers discounted conditions: 1 year free membership and charging for CHF 0.45 / kWh instead of CHF 0.50 / kWh. The basic charge of CHF 1.50 / charge is also waived.
Configuration of the car subscription
INSTADRIVE offers different equipment packages for its electric cars: Silver, Platinum and Gold. The silver package offers the basic equipment, the platinum package offers slightly better equipment and the gold package offers even better equipment. For some cars, however, not all three packages are always offered, so sometimes only the silver package is offered. At Carvolution, all cars are already well equipped and only this equipment is offered.
The two providers also differ in terms of contract terms: While INSTADRIVE offers their electric cars from 12 months to 72 months, at Carvolution a petrol, diesel, hybrid or electric car can already be driven from 3 months.
INSTADRIVE offers the kilometre package in years and if the contractually agreed number of kilometres is exceeded, 10% additional kilometres are still included in the price, but after that it becomes expensive: CHF 0.20/km. That can add up quickly. With Carvolution, the kilometre package can be adjusted monthly itself if it is noticed that too much or too little is being driven. This way, customers only ever pay for exactly what they need.
And last but not least, the down payment is compared: INSTADRIVE requires a down payment of between CHF 2,500 and CHF 60,000. The down payment influences the subscription price. The higher the deposit, the lower the subscription price. With Carvolution, no down payment has to be made, only the initial membership fee of CHF 390, with which the car is registered and prepared.
Additional services
With INSTADRIVE a test drive is not possible, but with Carvolution it is. The referral programmes of the two car subscription providers also differ: While with INSTADRIVE you get bonus kilometres for a successful referral, with Carvolution it is not only you but also your friend who receives CHF 200. In addition, Carvolution has an app where you can always keep an eye on your subscription. If customers notice that they are driving too much or too little, they can adjust their kilometre package directly in the app. And if an accident or damage occurs, this can also be reported directly via the app.
Carvolution is different in the following ways:
With Carvolution, an AVIA fuel card or an evpass recharge card is included in the all-inclusive package.

Large selection of petrol, diesel, hybrid and electric vehicles.

Over 400 reviews on Google. The Carvolution community is growing every day.

A useful app. The subscription is quickly available and you can adjust the monthly kilometrage package yourself.

Live chat available 7 days a week

Mobiliar is a strategic partner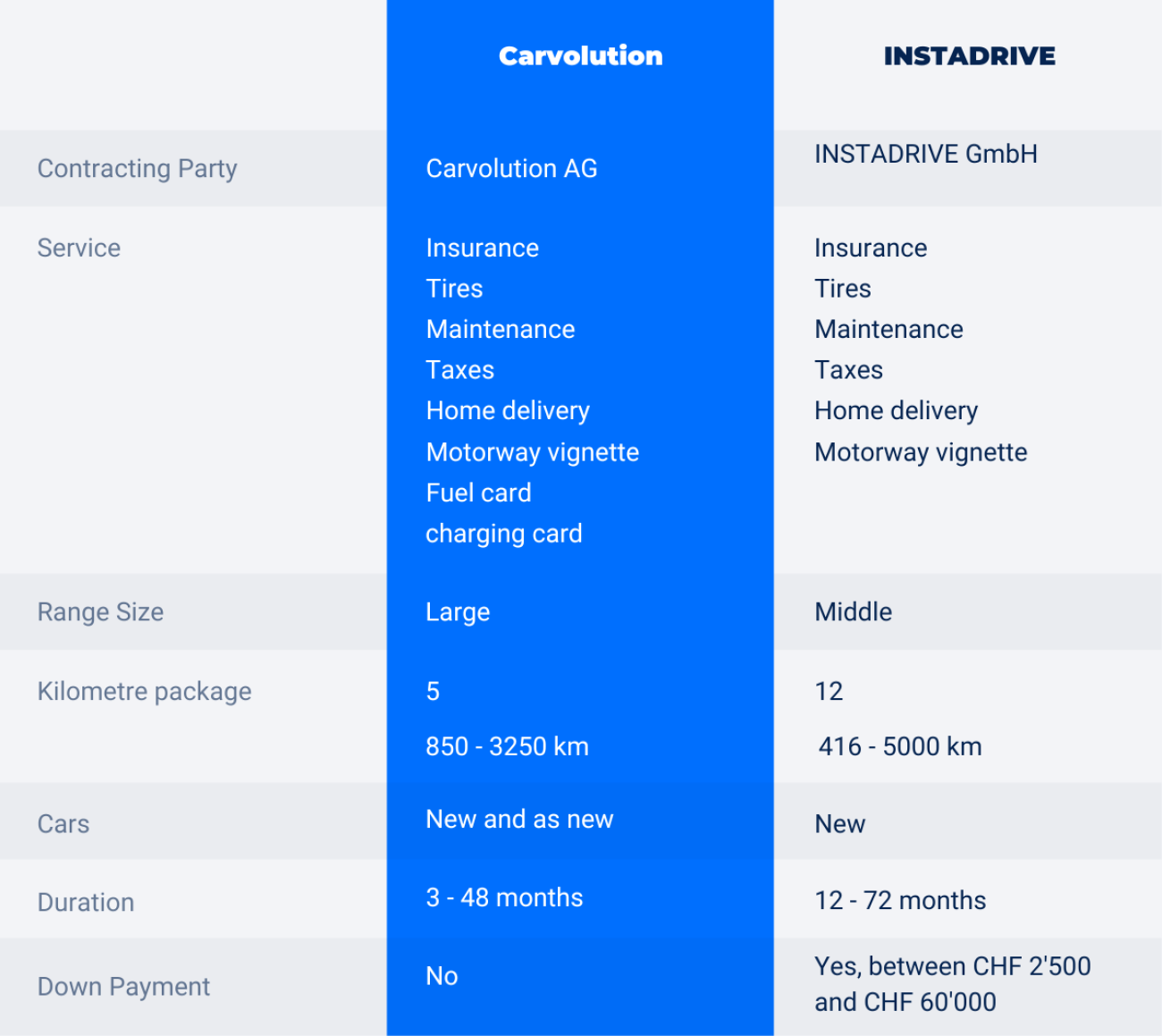 Which car subscription suits you?
At the end of the day, you decide which car subscription suits you best. Do you want to limit yourself to electric vehicles only? And is a high down payment no problem for you? On the other hand, is an affordable offer important to you, with a wide choice of petrol, diesel, hybrid and electric vehicles? The flexibility to adjust the kilometre package on a monthly basis? If you decide on Carvolution, you will find all our cars here.

Guaranteed never to pay too much
We guarantee that your total costs will be lower with a car subscription than with leasing. If we are more expensive, we will reduce our prices! Start a free, non-binding comparison now.