With navigas mobility, another car subscription provider has entered the Swiss market after the launch of Carvolution in 2018. Find out how the two young companies differ from each other and where there are similarities in the car subscription in the blog.
Offer
Both navigas mobility and Carvolution offer an all-inclusive bundle in their car subscription, whereby everything related to the car is included. This means that customers do not have to worry about insurance, cantonal redemption, taxes, service and maintenance and tyres. With Carvolution, the Carvolution fuel card for discounted refuelling (-5 Rp. / litre) or the evpass charging card for discounted charging (-5 Rp. / kWh, basic charge per charge of CHF 1.50 is waived and membership for 1 year is free) is also included.
Configuration of the car subscription
The configuration of the subscription is similar for both providers, but they differ in some points. For example, the duration of the subscription: With navigas mobility, only two terms can be selected: 36 months or 48 months. With Carvolution, there are 7: from 3 to 48 months. The kilometre packages are similar, whereby the largest kilometre package at Carvolution is 3250 km / month, at navigas mobility 2083 km / month. The third point of the configuration, the insurance deductible, has only one option with navigas mobility: The deductible is CHF 500. With Carvolution, you can choose from three different options for the deductible of the comprehensive insurance: CHF 500, CHF 1,000 and CHF 1,500.
Additional services
If you successfully recommend Carvolution to a friend, you will both receive CHF 200. In addition, Carvolution has an app where the subscription is always at hand. If customers notice that they are driving too much or too little, they can adjust their kilometre package directly in the app. And if an accident or damage occurs, this can also be reported directly via the app.
Carvolution is different in the following ways:
With Carvolution, an AVIA fuel card or an evpass recharge card is included in the all-inclusive package.

Large selection of petrol, diesel, hybrid and electric vehicles.

Over 400 reviews on Google. The Carvolution community is growing every day.

A useful app. The subscription is quickly available and you can adjust the monthly kilometrage package yourself.

Live chat available 7 days a week

Mobiliar is a strategic partner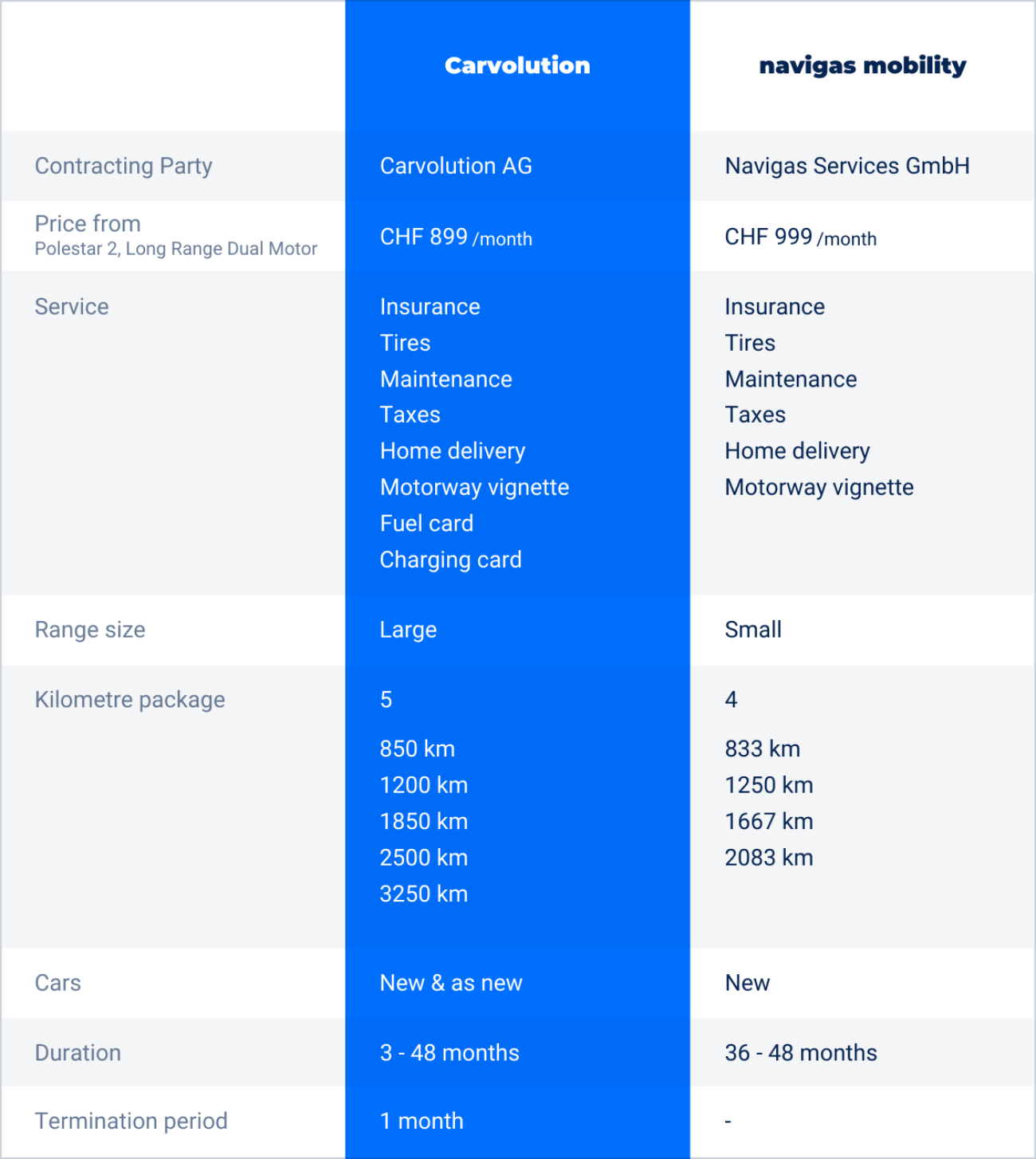 Which car subscription suits you?
Because there are now so many different car subscription providers, everyone has to find out for themselves which provider suits them best. Are different terms important to you, so that you can drive a car for only 3 or 6 months? Do you always want to have your subscription at hand thanks to the app? And is a large selection important to you? If you choose Carvolution, you will find all our cars here.