The boom in electric and hybrid cars continues unabated. More and more people are turning away from their petrol or diesel cars and are becoming interested in electric mobility. Carvolution is also aware of this interest and is expanding its range of electric and hybrid cars. This is why 5 new vehicles of this type are now available. In this blog post you can read all about our new cars, whether it's about range, equipment or acceleration time.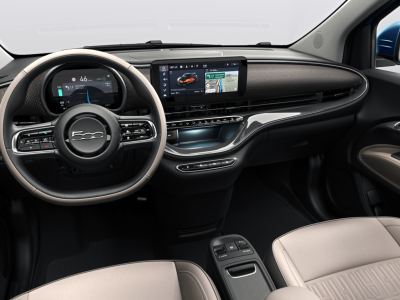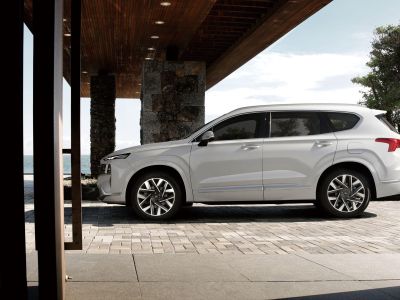 Fiat 500e
The Fiat 500e is now also available as an electric vehicle. It remains true to its iconic style, but with a new look. If you're just going to drive around town, the Fiat 500e will give you up to 460 km. According to the WLTP standard, it is 320 km.
In this little electric car, you are safer than ever thanks to all its new safety features. For example, the speed limiter helps you keep to the speed limit, or the lane assistant ensures that you always stay in the middle of the lane, whatever your speed or the traffic conditions. The Fiat 500e is still a classic that knows how to impress.
The most important features:
320 km range

118 HP

Fuel consumption of 14.2 kWh/100 km
Hyundai IONIQ 5 Amplia
The Hyundai IONIQ 5 is an SUV that offers a lot of space. The first thing you notice is its futuristic design: everything has been kept very minimalist and straight to the point. But this electric car is not only convincing on the outside. With a range of 481 km and acceleration from 0 to 100 km/h in 5.2 seconds, the IONIQ 5 offers the power you want.
This power is combined with maximum safety, as countless assistance and safety systems help you on your way. For example, traffic sign recognition, automatic emergency braking or drowsiness detection. The Hyundai IONIQ 5 will suit you if you like to drive a very powerful yet stylish electric car.

The most important features:
481 km range

217 HP

16.8 kWh/100 km fuel consumption
Tesla Model Y
If you're a Tesla fan, then you'll love the Model Y. It's a compact electric SUV that offers plenty of space with a sleek interior, as you'd expect from Tesla. The glass roof gives you more headroom and makes you feel like you're a little closer to the sun or the stars. The Tesla Model Y also allows you to get from point A to point B safely at all times. And to make sure you get there quickly, it accelerates from 0 to 100 km/h in 5 seconds. The top speed of this electric car is 217 km/h.
The Tesla Model Y is equipped with the usual Tesla comfort and standards and is ready for your next ride.

The most important features::
507 km range

345 HP

16.8 kWh/100 km fuel consumption
Hyundai Santa Fe Vertex
The Hyundai Santa Fe is a hybrid car. The SUV, with its 7 seats, offers enough space for your friends, your family, all your luggage and the dog. The fuel consumption of the hybrid is 7.6 litres/100 km and, with its 230 hp, it is fast on the road. This car also has countless assistance and safety features that support you while driving and ensure that you arrive safely at your destination. And thanks to its 8 speakers, you can listen to your favourite music at any time. The Santa Fe is made for great adventures, and you'll feel right at home inside.
The most important features:
230 HP

7.6 L /100 km fuel consumption
Something for you?
As you can see, you have a wide choice of new electric cars, be it a small car or a compact SUV or SUV. Have you already found your new car? If you have any questions or suggestions, you can of course contact us at any time. And here you will find a selection of all our cars, whether electric, hybrid or petrol.
You will also find an overview of Carvolution and the car subscription.
Guaranteed never to pay too much
We guarantee that your total costs will be lower with a car subscription than with leasing. If we are more expensive, we will reduce our prices! Start a free, non-binding comparison now.