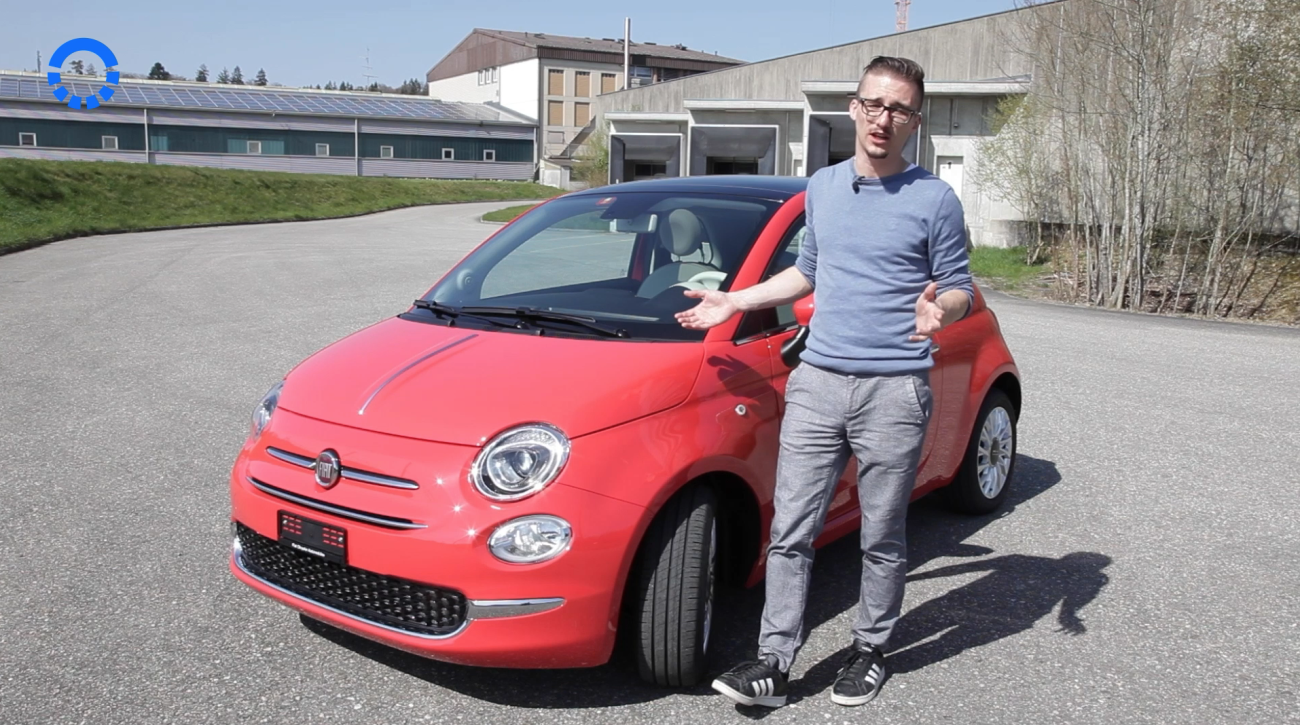 The Fiat 500 not only impresses with its charm, but also with its appearance: Chic design combined with driving pleasure. But find out for yourself what it has to offer.

A stylish car
This car is in the classic design of the Fiat 500. However, this classic design has been modernized and the urban runabout is now presented in this new edition. It is clearly a city car, as the Fiat 500 is small and compact. It fits perfectly into the tightest of parking spaces.
Thanks to the Carvolution service, you can choose this Fiat in different colours. So you are already one step closer to the Italian Riviera. And with the electric glass sunroof, you can also get a little closer to the sun.
Interior
When you sit inside, you will quickly notice that this city car is a design gem from the inside as well. Every button has its meaning and its rightness in its place. You won't find any excessive frills here. Every element is well thought out and designed with great attention to detail. The Fiat 500 proposed by Carvolution is equipped with a large dashboard. The central display has been well integrated into the overall design and is the same size of the car: small but nice. Of course you can access all the important functions and your mobile phone is connected quickly and easily via Uconnect. The Fiat 500 is also equipped with a USB port for mobile phones, for example. All these functions undoubtedly increase the driving pleasure of this small city car. For such a small car, the interior convinces entirely in terms of design and functionality. And let's not forget the leatherette steering wheel. Where would you find a leatherette steering wheel in another car of this size? As said before, the Fiat 500 is unbeatable in terms of design.
Space
The Fiat 500, which is proposed by Carvolution, is designed for four people. For a small and compact car, a larger number of people would quickly make it too crowded. It should not be forgotten that the Fiat 500 is still a city car. However, it should be noted that tall people can feel a bit cramped, especially in the back seat, and might hit their heads. As for legroom, there is nothing to complain about, even for tall people. All in all, the back seat is very comfortable and pleasant for two people.
The trunk offers plenty of space. It's always enough room for big purchases. But if you want to travel with three of your friends, it can be small for the luggage of four people. If, on the other hand, you want to transport something, you can simply use the back seat and you will have plenty of room.

Performance
The Fiat 500 is powered by a 0.9 litre 85 hp engine and is therefore not intended for the race track. But this is not the purpose of this city car anyway. Nevertheless, driving pleasure is guaranteed, especially in the city. Of course, this compact car can also be driven on country roads. Whatever the type of road, the Fiat 500 offers driving pleasure.
With a fuel consumption of 3.8 litres per 100 kilometres, there is nothing to complain about and the Fiat 500 can be classified as very environmentally friendly. With the "Eco button" you can even select the function for very low fuel consumption.

Driving pleasure
Driving pleasure is guaranteed. With the Fiat 500, you can whizz around tight corners or let the engine roar on country roads - of course considering the limits of its 85 hp engine. A small car that is decidedly agile. Perfect for narrow roads in the city or in the countryside. Furthermore, shifting gears is very easy, which makes the car itself super easy to drive. The big advantage is of course parking. Thanks to its compact size, it fits in any parking space.

Summary
A cool car that not only looks good, but also guarantees driving pleasure. With the Fiat 500 you can comfortably take your grocery bags home from the city or drive to the nearby lake and daydream about the Italian Riviera.
Guaranteed never to pay too much
We guarantee that your total costs will be lower with a car subscription than with leasing. If we are more expensive, we will reduce our prices! Start a free, non-binding comparison now.